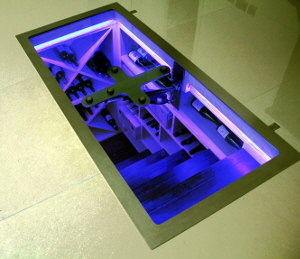 More and more home-owners have discovered that, rather than hiding their cellar away, it can be turned into an exciting and useful extra room in the house, and fitting the right cellar access trap door can make a stunning feature, adding value and wow-factor to the home.
Our cellar doors are engineered in the UK to the highest standard using stainless steel for frames and fittings doors made from toughened, laminated glass (not cheap acrylic) in a choice of tints, a choice of timbers and hardwoods, or recessed to accept your own flooring.
Doors can be opened manually (timber doors only) with gas-strut assist, or motorised using either a convenient wall-mounted switch or a wireless remote control system, adding an extra level of security to your cellar. All our doors carry a lifetime guarantee on frames and fittings and a 12 month manufacturers warranty on motors and gas-struts.
Through our sister company, The Stone Cellar Company, we can also help you with racking and wine storage solutions for your existing cellar or even install a whole new wine cellar from scratch!
We would love to hear from you and have a chat about your requirements. We won't pressure you into buying anything you don't want and are always happy to discus your project with you. And if you're outside the UK, that's ok too - we have a distributor in Australia and can ship doors anywhere in the world.
We can make doors to your specification and also make a range of doors that can be retro-fitted to spiral staircase type cellars
All our door frames are engineered in the UK in stainless steel and are guaranteed for life
Contact us on
01273-465678
or by email for a friendly and informal chat